Geocell is a cellular confinement system utilised to enhance slope protection by stabilising the soil and steep slopes for earth retention in construction sites. A geocell has a three-dimensional cellular structure and is placed vertically to load sand, soil, and rock.
Geocell is a lightweight, expandable cellular confinement system built to hold a variety of weights. It acts as a barrier to control erosion in embankments and channel slopes, river banks, and bridge abutments. It provides excellent reinforcement for artificially constructed walls as well as a shield for membranes in landfills. The stabilisation properties of the geocells make them ideal for the construction of roadbeds, road expansions, and parking lots.
Wall Tag leads the industry for manufacturing and supplying of geocells with the best erosion control for all heavy duty infrastructural needs in Singapore. Backed by a team of experienced individuals, we have always served our valuable customers with the best products and solutions, technical expertise and logistics support.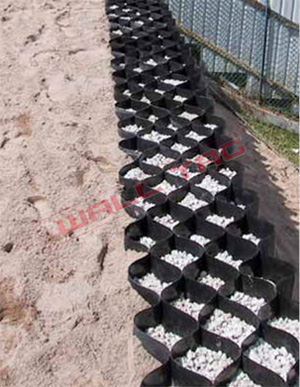 PROPERTIES
High-density polyethylene (HDPE) strips are bonded together to form a high-strength geocell cellular confinement system. The honeycomb configuration of the geocell can either be manufactured on-site or filled with materials for use in different applications. They are lightweight, long-lasting, cost-effective, easy to install, and space-saving.
APPLICATIONS
Earth retention system
Ground reinforcement
Channel protection
Slope stabilization
Embankments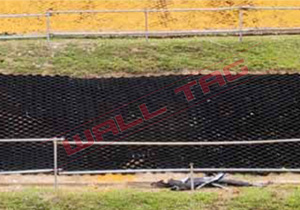 CONTACT US
We assume full responsibility for each of our services and products, including geocells, Reach us at (65) 6398 0308 or send your enquiries to enquiries@walltag.com.sg.