Geotag silt curtains are used as protective barriers in marine environment to control pollution caused by suspended sediments, such as silt, soil or stone dust. 
Most of the time, rain water run-off during construction creates sediment in waterways, silt curtains are used to contain this suspended sediment. By confining the sediment to a specific area, the rest of the waterway is then protected from the damaging effects of pollution. Geotag Silt Curtains is used in marine construction, pile driving, site work and dredging activities.
Wall Tag is a leading of Silt curtains. Wall Tag has a strong supply chain network for Silt curtains. Kindly contact us for quotation.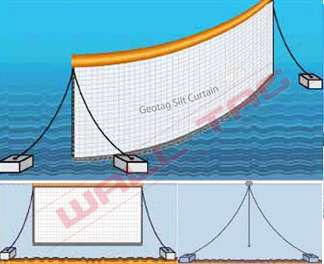 PROPERTIES
Geotag silt curtains is a flexible high strength woven membrane that is suspended by floats in the water together with the mooring system to stabilize the whole silt curtains system.
APPLICATIONS
The purpose of the silt curtain is to prevent diffusion of pollution generated in dredging and reclamation works in the seas or rivers. Scientific researches in marine life and organism have found that the fine silt particles will affect the living conditions of sea creatures and its environment. Hence, it is of utmost importance to protect the organism and marine life by using silt curtain.
Geotag Silt / Turbidity Curtain is widely and effectively used in:
Controlling of sediment on water based (or adjacent) construction operations.
Controlling of sediment both from dredging operations and deposition.
Controlling of sediment in canals, drain outlets into water bodies.
Screening of large solids in treatment ponds.
MAINTENANCE
The curtain should be inspected daily for holes or other problems, and any repair needed should be made promptly.
Allow sediment to settle for 6 to 12 hours prior to removal of sediment or curtain. This means that after removing sediment, wait an additional 6 to 12 hours before removing the curtain.
To remove, install furling lines along the curtain, detach from anchors, and tow out of the water.