Corrugated HDPE Piping Systems
Wall Tag is the most reliable manufacturer and supplier of top-quality, high-density polyethylene (HDPE) pipes in Singapore. We are best known for our efficient distribution network that strives to supply HDPE piping systems with the finest HDPE material in Singapore.
Tag Pipe corrugated HDPE pipes are lightweight, flexible and non-brittle, making them ideal for gravity flow water management systems. This is a cost-effective piping system and is typically used for subsurface drainage, storm drainage, leachate, and sanitary sewers. One of the key functions of Tag Pipe corrugated pipes is to keep golf courses, parks, and playing fields dry by channelling away excess underground water.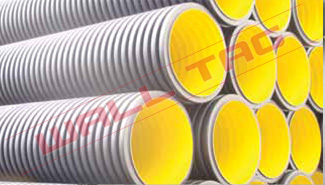 PROPERTIES
Tag Pipe is a heavy-duty corrugated pipe that is made from high-density polyethylene. The plastic pipes or tubing are manufactured under controlled conditions by extruding and vacuum forming.
Perforated and non-perforated are the two main types of tag pipes in corrugated HDPE pipes. The perforated pipes come with uniform slots and drilled holes, which are excellent for subsurface water collection or leaching action, whereas the non-perforated pipes are used for water with gravity flow from one point to another. Some pipes are made with only one wall, while others come with double walls, which consist of an inner wall and a ring-shaped outer wall. A wide range of fittings and field connections such as internal and external couplers, tees, reducers, elbows, wyes, and end caps, can be installed with Tag pipes.
Corrugated HDPE piping systems are an excellent choice for use with the water management systems associated with the following projects.
Culverts
Highway drains
Agricultural drainage
Leachbeds
Building and Construction Drains
Containment Pipe
Soil Stabilization
Cable Conduit
Drain Aeration
Air Ducting
Golf Courses
Soccer Fields
TAG PIPE HDPE POLYPIPE (PN PIPES)
Tag Pipe HDPE Polypipe is manufactured to support water and gas applications and they are excellent for construction and infrastructure industries.
PROPERTIES
Tag Pipe HDPE Polypipes are made from high-density Polypropylene. They are flexible and lightweight. They are resistant to UV radiation, chemicals, and corrosion. Tag Pipe HDPE Polypipe can withstand high temperatures of up to 100°C. They have excellent abrasion resistance compared to other pipe materials. The smooth inner wall of the Tag Pipe HDPE Polypipe provides superior flow features. They are supported by numerous types of joints: Electro Fusion, Butt Fusion, Socket Fusion, and Mechanical Joint.
APPLICATIONS
Given below are some of the applications where you can utilise Tag Pipe HDPE polypipes.
Portable water supply for residential and industries vicinity
Portable gas supply
Underground protection pipe for underground cabling
Tag Pipe HDPE Structural Piping System
Tag Pipe HDPE Structural Piping System has a unique structure that can offer a wide range of pipe sizes and ring stiffness.Various properties of raw materials are combined with the latest advances in production technology to manufacture engineering products that are relatively lightweight . Tag pipe HDPE structural piping systems are widely utilised in municipal, industrial, rehabilitation, road construction, and marine pipelines.
PROPERTIES
Tag pipe HDPE structural piping system is made from high-density Polyethylene in an extruding hollow rectangular profile, which is then wound onto a mandrel and welded in a continuous patented process. Tag Pipe HDPE structural piping system is lightweight and easy to install.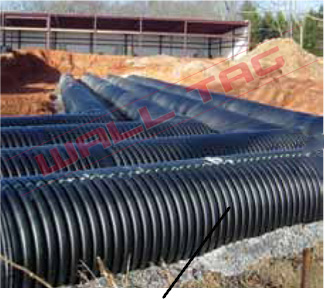 APPLICATIONS
Storm Water and Water Storage Tank
Culvert and Drainage pipe
Retention Tank
Biogas storage tank
Sewerage Application
Manhole System
Waste Water Application
Wall Tag Pte Ltd offers you a wide range of HDPE products and engineering systems to suit all your project needs. Contact us today at (65) 6398 0308 or email us at enquiries@walltag.com.sg.