At Wall Tag, we supply a range of premium -quality geocomposite drainage systems at competitive prices in the industry. Geotag geocomposite is a sub-surface drainage product that directly replaces conventional granular fill.
Geocomposite drainages consist of two different components: a drainage core and a geotextile. Water is filtered and transmitted through the geotextile into the drainage core, which comprises high- or low-density polyethylene. Geotag geocomposite is the ideal solution to prevent the soil from washing into the drainage.
The basic fundamental behind geocomposite materials is to merge different materials in an agreeable way at an optimal cost. Geocomposite drainage makes excellent drains,allowing water to pass into the capillary zone where water level can increase due to capillary actions.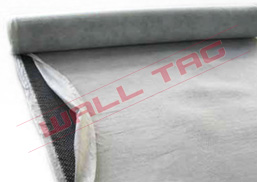 Properties
The core of the Geotag geocomposite drainage layer is made of polyethylene, which is stable and pressure-resistant. It is sandwiched between two filter nonwoven geotextiles. The Geotag geocomposite is designed to be only permeable to water and air to pass through it without obstructions. They can withstand wet and dry conditions without being attacked by fungus. Geotag geotextiles are resistant to soil acid, alkalis, and most chemicals. They are easy to install and cost-effective.
Applications
Drainage for weep holes
Retaining wall drainage
Drainage for planter boxes
Roof garden drainage
Pond, reservoir and land drainage
Basement/Tunnel wall drainage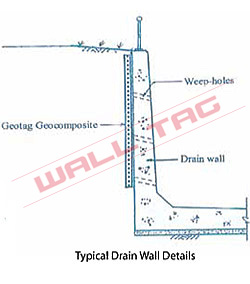 Physical Characterists
| | |
| --- | --- |
| PHYSICAL CHARACTERISTICS) | GC |
| Polymer | HDPE |
| Geotextile Polymer | PET/PP |
| Foaming Agent | NO |
| U.V. Stabilizer | Carbon black |
Contact Us
Wall Tag provides an extensive range of geocomposite drainage systems to suit your project requirements. We have a very strong network of services available to assist you with all your enquiries. Contact us at (65) 6398 0308 or drop an email to enquiries@walltag.com.sg.